Mark has translated Tang Dynasty poet Li Shangyin's complete poems to share online with those interested in Chinese history and culture. Starting in 2015, Mark was fascinated by this great poet of China's Tang

Mark visited the Magosa school in Kibera during the holidays to support the arts program and pen pal program he initiated between kids in Kenya and orphans in China. Over 40 letters were created on the spot to be delivered to children in underserved schools and orphanages in China and Hong Kong. Mark also donated clothes to help form a local soccer team in Kibera. Mark's Foundation also made a small donation, using funds from generous American and Hong Kong donors, and purchased some loca

The Foundation has partnered with the E2E Foundation and Knod Foundation in Kenya to help provide jobs to talented students. While in Nairobi, Mark and E2E met with leading governmental institutions, corporations and social groups to identify funding sources and new ways to bring jobs to youth. A portion of their efforts will be targeted towards artistically talented children as well as awareness activities in 2017. Secondly, Chinese corporations will be encouraged to provide mentors and

During a recent Shanghai visit, Mark gave the keynote speech at the LEA Global Alliance, the world's second largest leading organization of consultants and accountants. Over 300 participants attended thus year's conference in Shanghai. A joint fundraiser in Shanghai raised money for the foundation's Piano+1 program. Mark's calligraphy was auctioned to an American buyer and he performed for the first time on a glass piano!Thanks to Marcum Bernstein, LEA and 21st Century Foundation.&n

Mark was invited to the Beijing Normal University International Children's Drama Festival opening ceremony, organized by BNU (where he is a Professor of Arts and Communications). Kids put on an amazing multilingual performance of the play 《Shua~》He also discussed Multiculturalism with students at BNU, with dialogue on food, calligraphy, the Tang dynasty and even movies!

Mark was invited by the Huangzhou Government education bureau to give a speech on multiculturalism and the Chinese calligrapher Wang Xizhi. He was also honored before fellow educators and teachers as an image ambassador. The educational forum he attended focused on globalization and attracting foreign teachers to China. 'I am impressed,' Mark said, 'that these Hangzhou schools are forward looking and embrace global learning and diversity.' While in Hangzhou, he visited the famous Orchard Pavilio

As part of his new relationship with Beijing Normal University, Mark signed an MOU with the university to establish the Obama Ndesandjo Centre at Beijing Normal University for Art Education and Research between China, Africa and America. As President of the Centre, Mark will work with other departments, in particular the School of Arts and Communication, as well as other educational institutions and organizations to develop innovative new ways to train teachers and build sustained cultural excha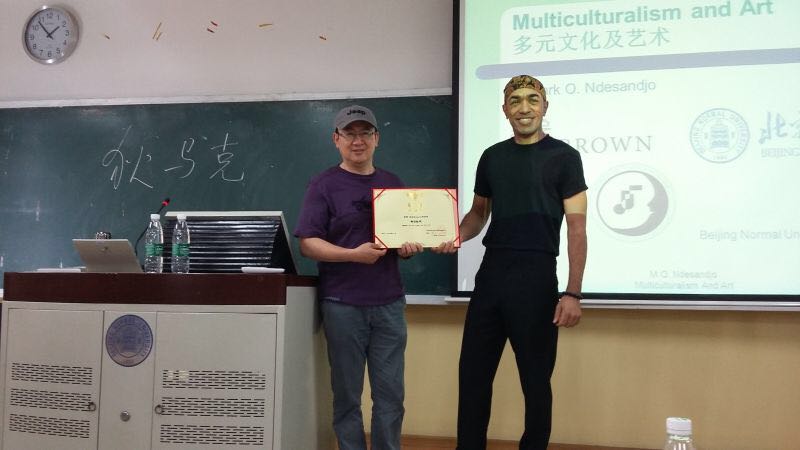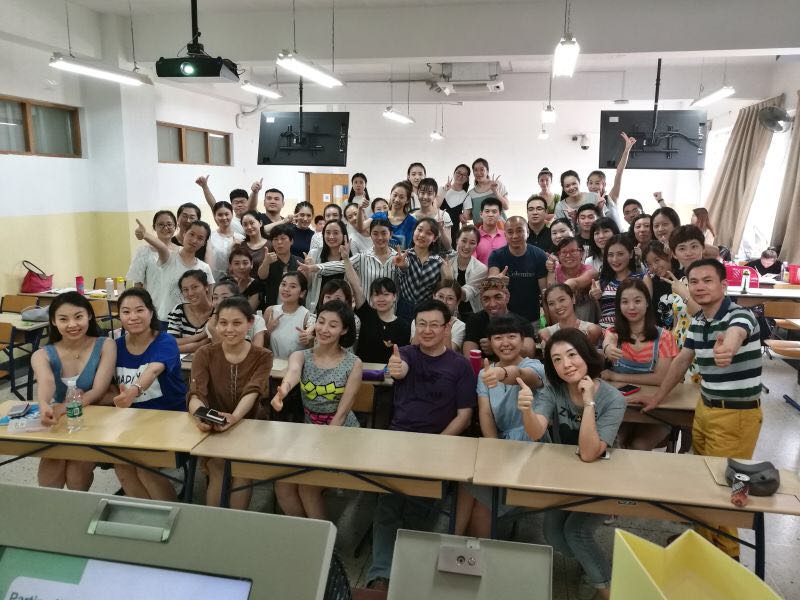 Mark has been appointed an adjunct Professor of Arts and Communications at Beijing Normal University. Beijing Normal University is the top ranked teachers university in China and one of its oldest and most prestigious higher education institutions. Its alumni include Nobel Laureates Mo Yan and is considered one of the mos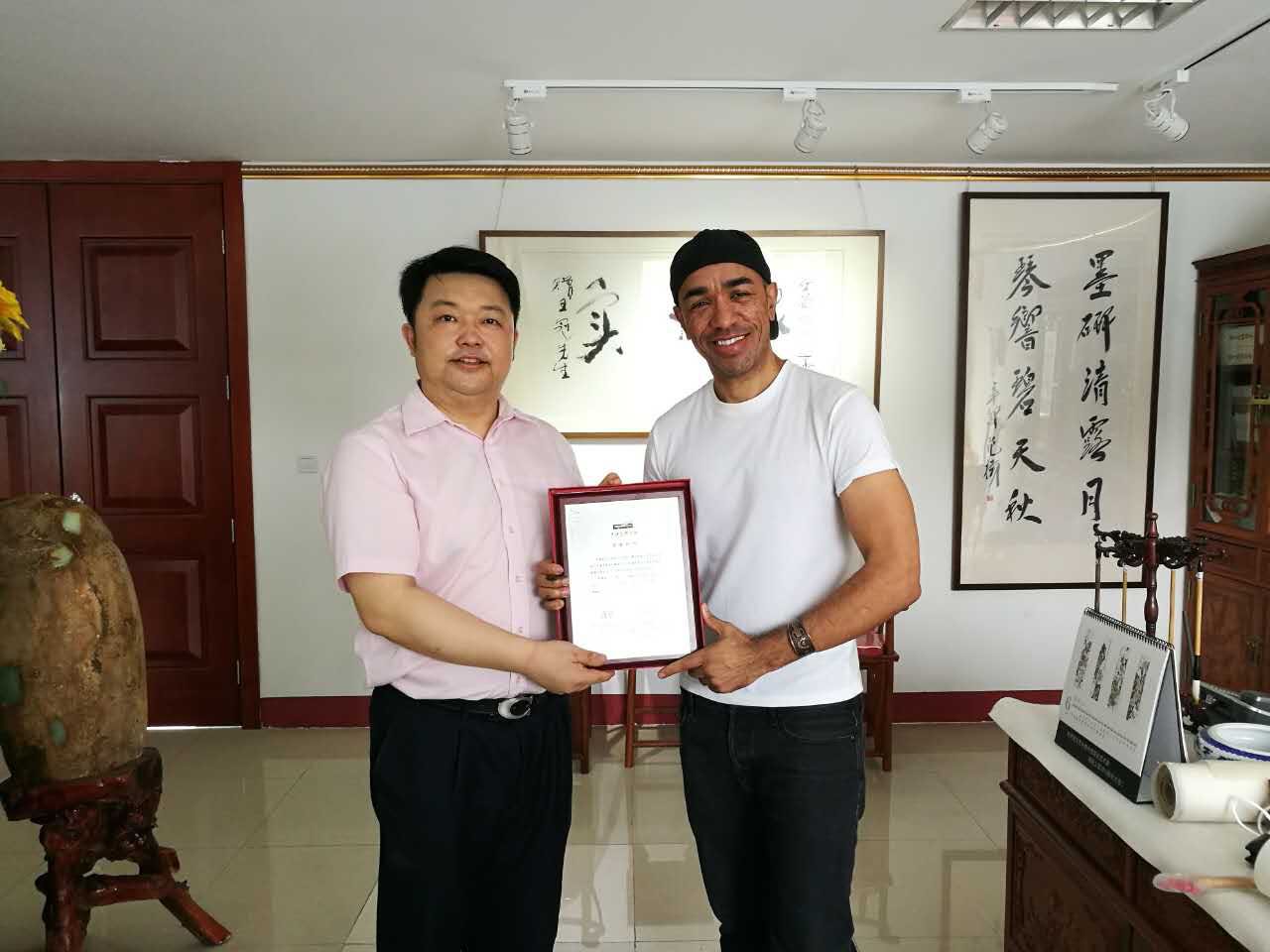 In July, Mark was honored with the position of Image Ambassador for the France-China Cultural Exchange Forum. The Forum was launched in May 2016 by President Xi Jinping and French President Hollande to encourage and support cultural exchanges between China and France.
Mark was honored to receive the accreditation signed by Former French Prime Minister Raffarin and National People's Congress China Standing Committee Dep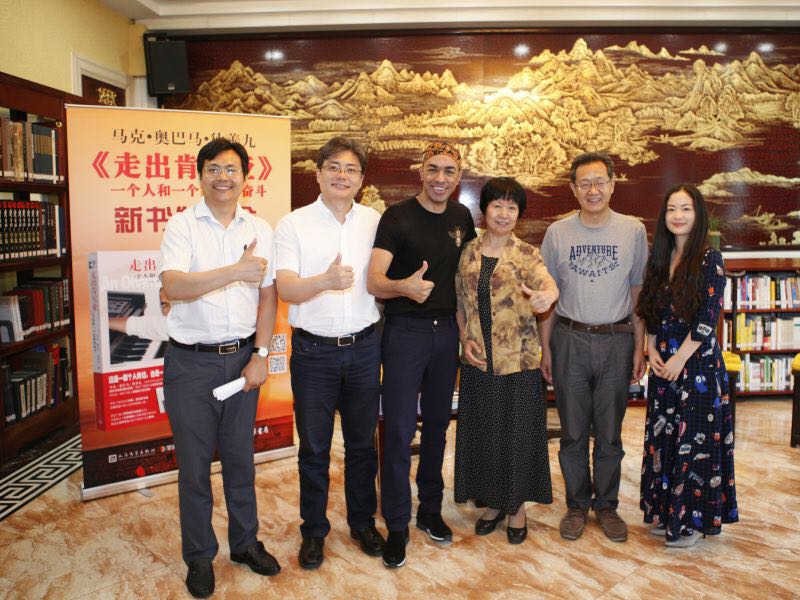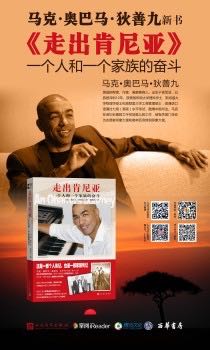 In July, in a small ceremony in the West Wall of the Forbidden Palace in Beijing, Mark and the People's Literature Publishing House together introduced the Chinese language version of Mark's memoir <<走出肯尼亚>> (Out of Kenya) to the mainland Chinese market.
The book chronicles Mark's multicultural journey across Kenya, America and China,

In June, Mark was invited to speak on the topic of domestic violence at the Family Forum hosted by the Shenzhen City Government. He related his own personal experiences of domestic abuse as a child.
"When my father was six years old,' he said,' His mother (my paternal grandmother) fled the home because of domestic abuse. My father also fled after her and tried to find her - to no avail - before he was found and returned home. Thirty years later, I saw my father hit my mother with my ow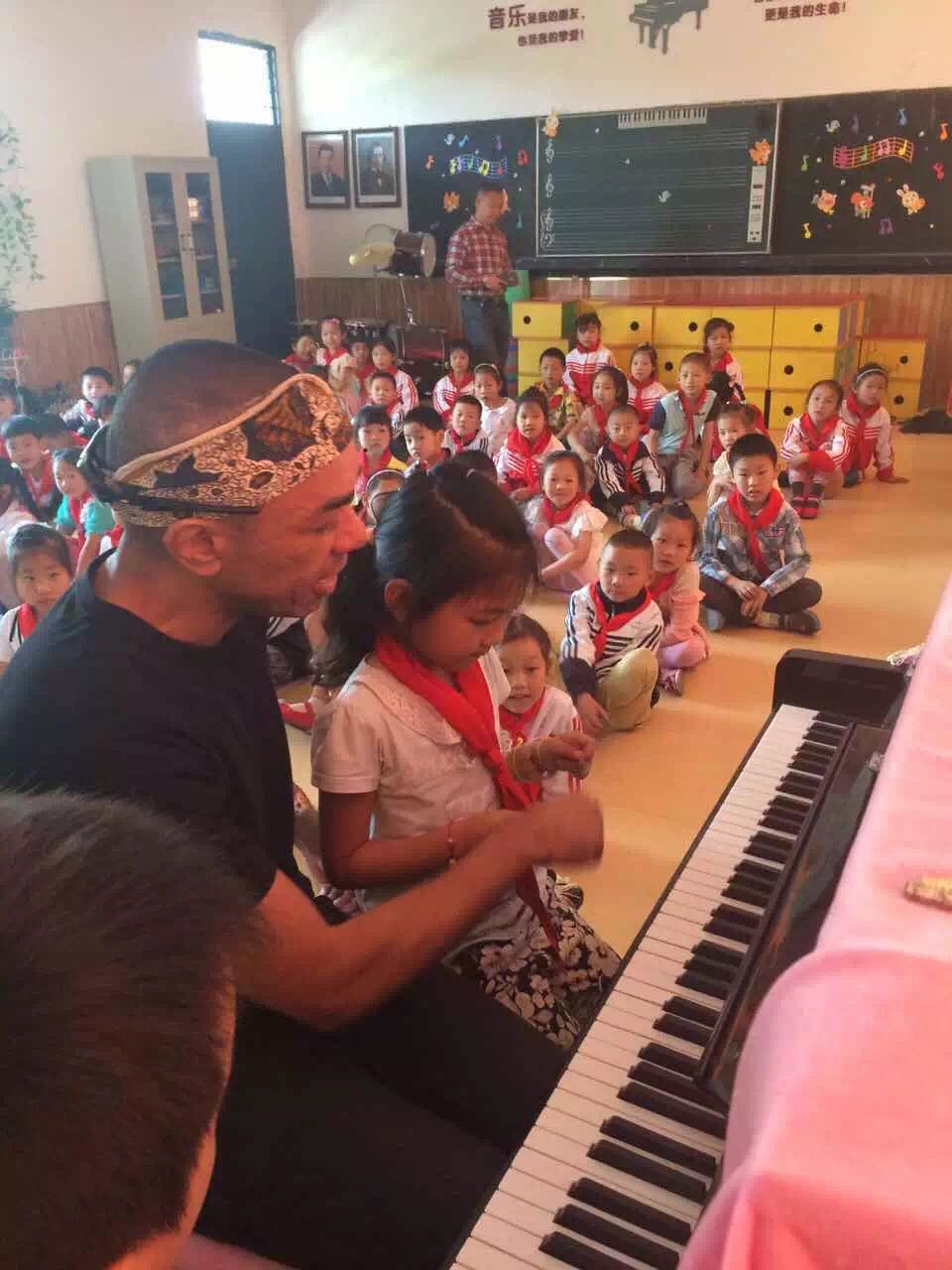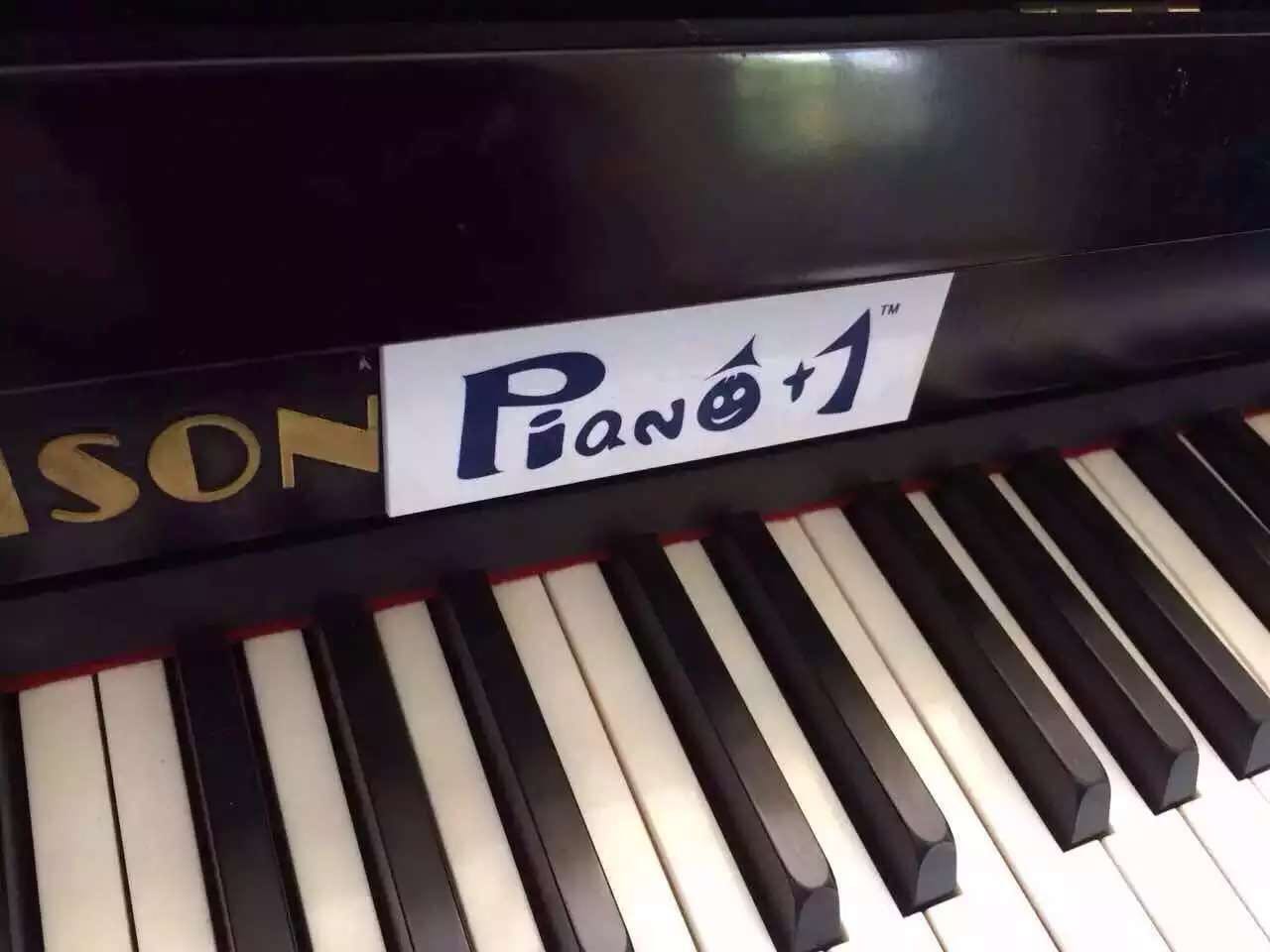 In May, the Piano +1 program donated 5 pianos and helped provide music teachers for 5 schools around Chengdu, the capital of Sichuan Province: Mei Shan City Peng Xi Primary School, Doushuo Primary School, Wu Huang Primary School, and Hong Ya School. Some of these schools were rebuilt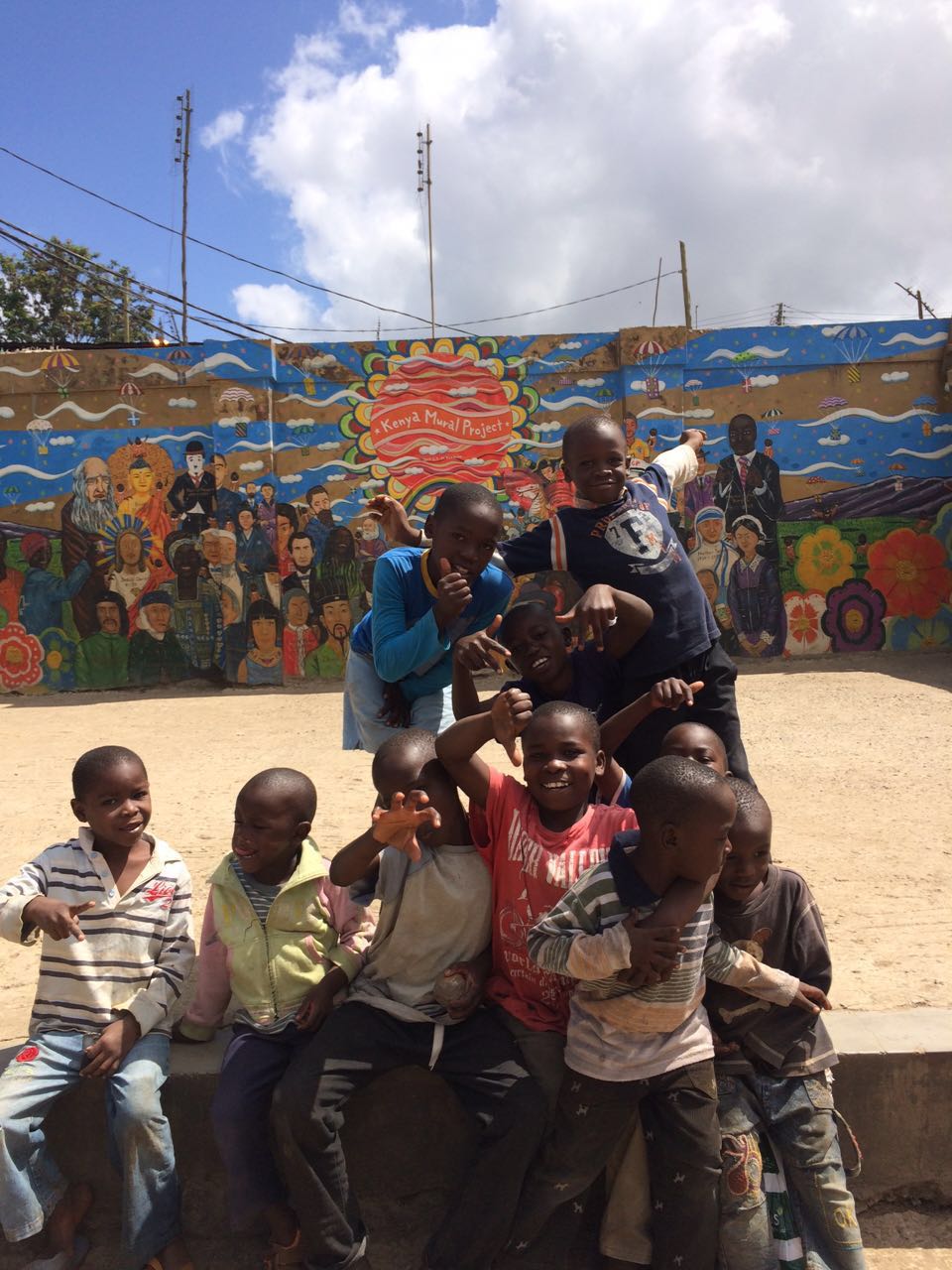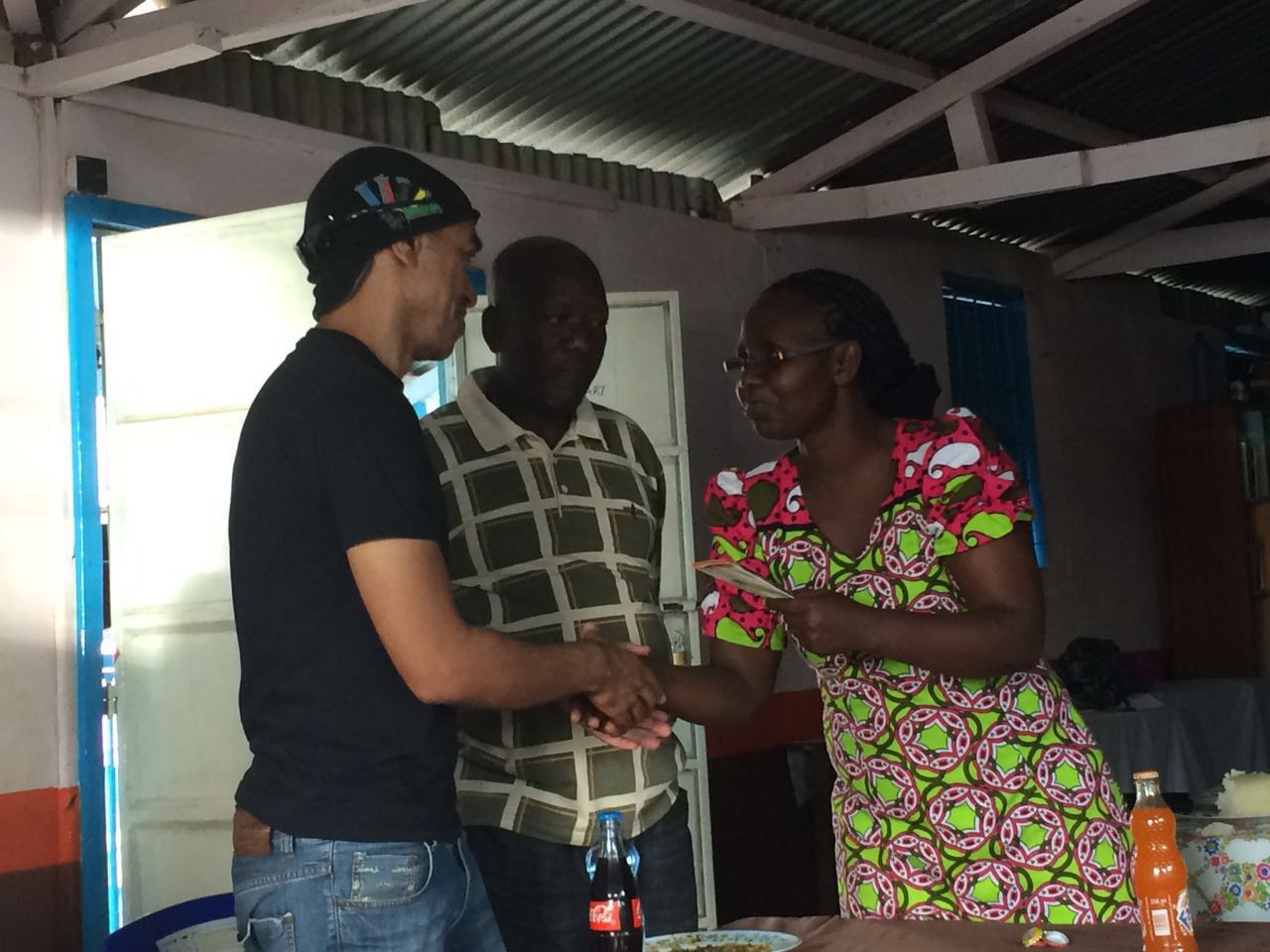 While In Nairobi, Mark visited the Magosa School in Kibera.Africa's largest slum (population 1 Million+). 80% of the over 500 pupils are orphans and the remainder from severely destitute families. Most are HIV orphans. Mark and his Foundation initiated a pen-pal pro

The Mark Obama Ndesandjo Foundation has begun working with Lions Club of Kenya to explore ways of treating children's eyesight problems with art as well as science. In December Mark met with representatives of Lions Eye Hospital and St Mary's Mission Hospital in Nairobi, Kenya. One of the goals in this collaboration is to complement the popular Sight For Kids Program in Nairobi with the Piano + 1 program. Music and art will be used to build confidence and fun fo

Mark was invited to Yunnan province in Western China to encourage kids to learn music and the. arts. On behalf of his Foundation, Mark and his wife Xue Hua donated a piano and seed funding for a music teacher. The Foundat