| | | |
| --- | --- | --- |
| Calligraphy | | |
| | | |

precisely because he knew he knew nothing.

Stay Hungry, Stay Foolish

During an appearance at the University of Business and Economics in Beijing, Mark was asked to write some calligraphy. He wrote 8 characters, roughly translated as 'Stay Hungry, Stay Foolish.' In a break with traditional calligraphy, he also wrote the English translation in small characters (below the Chinese). This phrase has ancient Chinese and Western precedents with similar or related meanings. Confucius said: Not to know, is also knowing. Socrates, around the same time, also declared that he knew he was wise

The 36 Strategies of War

Chinese calligraphy or shufa (书法) is a unique and rich art form more than three thousand years old, and has evolved and influenced Asian art in innumerable ways. The tools are simple: rice paper, a soft hair brush and black ink. Although Chinese has more than 40,000 characters, it only uses seven basic strokes. Because of the malleability of the hair brush and the innumerable permutations of each character, it is quite difficult to master. If the stroke is too fast, the result is an ugly white gap. If too slow, the ink bleeds over the paper. Ideal calligraphy, therefore, is almost like dancing in its blending of speed, direction and pressure.

Following is a selection of shufa by Mark from the 36 Strategies of ancient China.

(Photography courtesy of Mr Liu Chunmin of Shenzhen)

Strategy 13: Beat the Grass and Kill the Snake (打草惊蛇)

Here Mark writes the characters in one stroke, without allowing the ink brush to leave the paper. It is very difficult since not only does one have to link the characters in a meaningful and aesthetic way, but also one must conserve the ink in the pen. As a result the first strokes are often very fast (because there's a lot of ink) and the final strokes are very slow (to allow the ink to run). The last character represents the wiggling of a snake.

More on the 36 Strategies

The West had Machiavelli. the East had the 36 Strategies. There are two famous Classical Chinese works on the strategies of war that are well known in China. Sun Zi's Art of War is the most famous. Less well known in the West is the 36 Strategies, a later compilation of war strategies finalized during the Ming Dynasty. Finding no English translation of the work, Mark decided to translate himself, and in the process, fell in love with the beautiful characters. He decided in 2010 to paint the 138 characters of this work, comprising 30 4-character and 6 3-character sets, and finally completed the entire set of 36 frames in August 2011. Different calligraphic techniques used include:

Yi Bi Hua One stroke writing
Xing Shu Cursive script
Cao Shu The most cursive of Chinese scripts.It simplifies the multiple strokes of the classical Kai and Xing scripts.
Xing Cao A blend of the two scripts

Mark's style is more individualistic than traditional calligraphy. His intent is to have each work viewed on at least two levels: reading the characters or just admiring the beauty of the Chinese line as it explores the paper.Enjoy!!

Useful Links

https://sf.kdd.cc A remarkable library of chinese calligraphy. Warning: need to know chinese to use it well!
Some calligraphy articles here and here

Born in Kenya and a fifteen year resident of Shenzhen, People's Republic of China, Mark Okoth Obama Ndesandjo is an accomplished American pianist, writer, artist and businessman. He is Adjunct Professor of Arts and Media at Beijing Normal University and has a BSc. Physics (also completed BA math requirements) from Brown University, an MSc Physics from Stanford and an EMBA from Emory. He is an HSK L7 (advanced) Mandarin speaker and writer, and an avid brush calligrapher.
His business advises investors aiming to link Asia, Africa and the USA, using over 25 years of communications and international branding experience gained as a senior manager at Lucent, Nortel and other companies.
In addition to his first book, Nairobi to Shenzhen, he has completed a memoir, An Obama's Journey, and published 3 piano CDs, The Untimely Ones, Night Moods and his own composition Reflections on William Blake. His current projects include translating to English the complete works of Tang Dynasty poet Li Shangyin. Mark has been regularly volunteering piano lessons to orphans in and around Shenzhen since 2002. He is Shenzhen's Volunteer Image Ambassador and China's Special Olympics Image Ambassador, as appointed by the Chinese government. Mark is also Image Ambassador for the France-China Cultural Forum. Recently he established the Mark Obama Ndesandjo Foundation Ltd for cultural exchange, whose goal is to bring art to youth and the disadvantaged.
About the Novel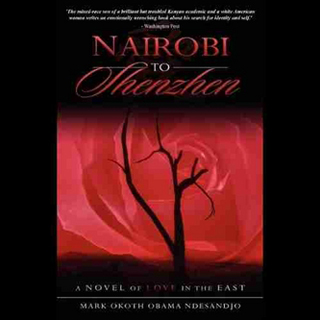 The protagonist, upon arriving in China in the wake of 911 and the onset of a terrifying global war, is forced to confront his early experiences in Kenya and the United States as a result of his growing love for a beautiful Chinese woman and a young orphan. Parallels between his own upbringing and the potential family that lies before him lead to questions about his true identity, the complexities of his multi-racial family and the relationship he had known with his father. 15% of profits from book sales are donated to help disadvantaged children.